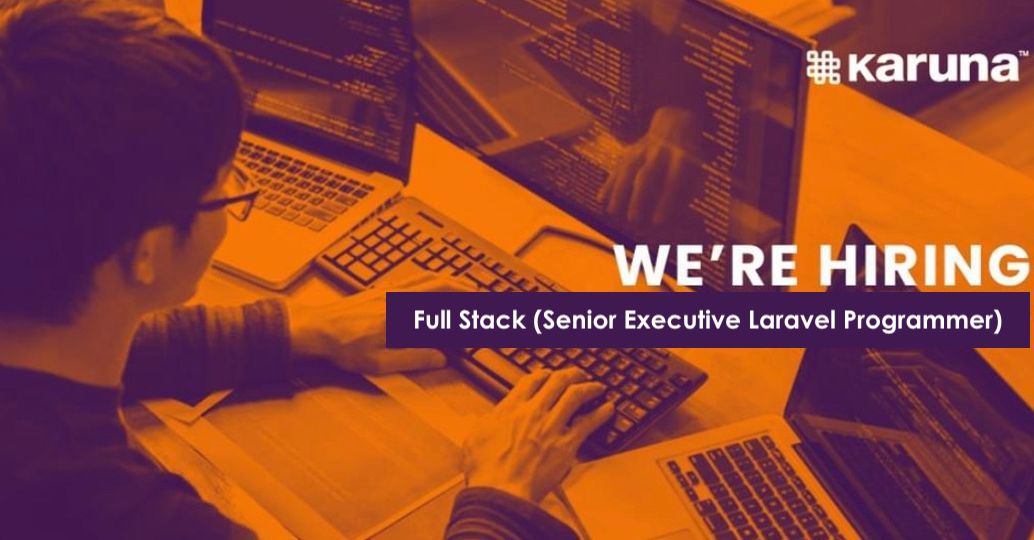 Full Stack (Senior Executive Laravel Programmer)
Karuna Sarawak wants you!
About Us:
Our company specialises in website user experience, SEO & digital marketing, we love helping businesses flourish in a rapidly evolving world. It's all about having a passion for using creativity and technology to create emotional bonds between customers and your brands. In 2017, Karuna Sarawak was awarded Malaysia's Best Website Award for Commercial Sites.
Job Highlights:
Parking Coupon
Yearly Company Trips
Company Events
We are looking for a passionate and hardworking Senior PHP /Systems Programmer who has the following skills:
Strong knowledge and understanding in Laravel is a must
Good understanding of PHP, Jquery, MySQL, NGINX and Apache
Strong understanding on front-end technologies, such as JavaScript, HTML5, and CSS3. Other languages such as React Native and React.js will be a plus
Strong knowledge in MVC
Experience with UI/UX Mobile App Development
Strong knowledge of the common PHP or web server exploits and their solutions
User authentication and authorization between multiple systems, servers, and environments
Familiarity with limitations of PHP as a platform and its workarounds
Creating database schemas that represent and support business processes
Qualifications:
Degree or Masters in Information Technology, Computer Science, Software Engineer, or related course with equivalent qualifications.
Only applicants with more than 2 years of work experience will be shortlisted
Have fair knowledge and good grasp of programming concepts and computing skills, able to think logically, and have a keen interest in software development.
Enjoys challenging problem solving
Matured and able to communicate effectively, both spoken and written in English.
Disciplined, independent and punctual
Full-Time
Apply online now or email resume to: [email protected]