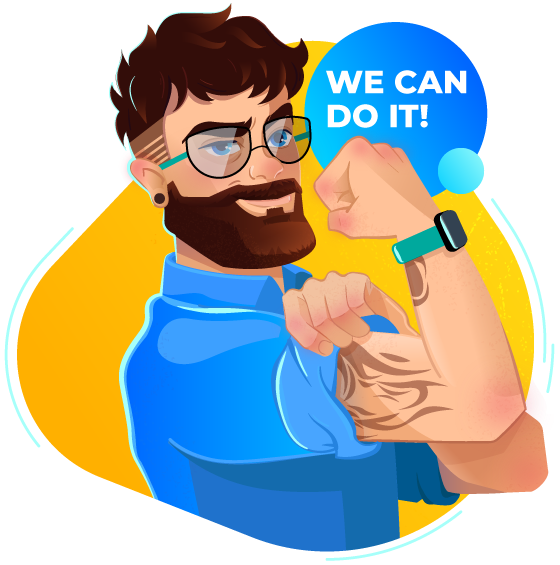 LET'S
GET THE
MAGIC DONE!
AFFILIATE PROGRAM
FOR DIGITAL & IT SOLUTIONS
If you are a trusted consultancy, an individual consultant or a marketing agency, you may need Web Design, Digital Marketing, Mobile App and software development services for your customers apart from the services you directly provide.
We understand that these Digital & IT solutions are not your priority, and we are ready to take on this task and equip your clients with the software tailored to their industry specifics and business needs..
If you are a sales agent, you can help us hunt for new web, mobile app or software development opportunities. All you need is to provide us with relevant leads, and we'll reward your efforts according to our Referral Program.
Join Karuna Affiliate Program for web, mobile app or software development services and get rewarded for the leads you bring us. We are open to expanding our business network and obtaining new web, mobile app or software development challenges.
PARTNERSHIP PROCEDULE
We sign an NDA to ensure your sensitive data is not disclosed and an Agent Agreement that regulates the specifics of our cooperation in frames of the Referral Program (including the commissions you get as a mediator).
You introduce us to your clients who need our services – web, mobile app and software development.
We communicate with your clients and offer them the solutions they need (or may need) – saving your time and efforts.
When we win a contract, we compensate your efforts (paying a percentage of the contract) according to the conditions of our Referral Program.
Your participation in the software project itself is not mandatory, but you can join it, for example, as a consultant. We are interested in long-term cooperation and can offer all-round web, mobile app or software development and support to every new customer you have. We respect your reputation and ensure that required services will be delivered to end-users within time and budget. We are also ready to provide you with all the necessary marketing materials to introduce our services to your customers (including co-branded materials featuring the benefits of a joint offer for your customers).
At Karuna, we are looking for new opportunities in various industries including Human Healthcare, Transportation, On-Demand Economy, Human Resources, E-commerce, Hospitality & food, Entertainment & Media, Real Estate as well as Travel in Malaysia.
Please feel free to send your questions to us and set up a free consultation with our representative.
SOLUTIONS
WE CAN
CREATE
FOR YOUR
CUSTOMERS
Digital Marketing
To get more lead and gain more sales online.
Web Design
Establish online presence and building your brand online.
Custom Software
Helping companies enhance their operational efficiency and improve productivity.
Mobile apps
Variety of Apps can be proposed for all the Government and private sectors.
CONTACT US
Ready to start? Need more info about partnership details? Contact us to get free consultation and explore how we can cooperate. Our specialists are open to give the presentation of Karuna services and provide you with our demos, success stories and other materials you need.
ABOUT US
Website Awards under Commercial Category in 2017, 2019 & 2020

 

Karuna is a creative digital agency with 38 creative individuals who are focused in helping clients in branding, web development and creating a unique user experience since 2009.

 

Today, Karuna serves more than 600 clients from Malaysia, Maldives (Maldives Tourism), Hong Kong and Singapore (NBC Studios & Philip Capital)

 

Learn more about is here.