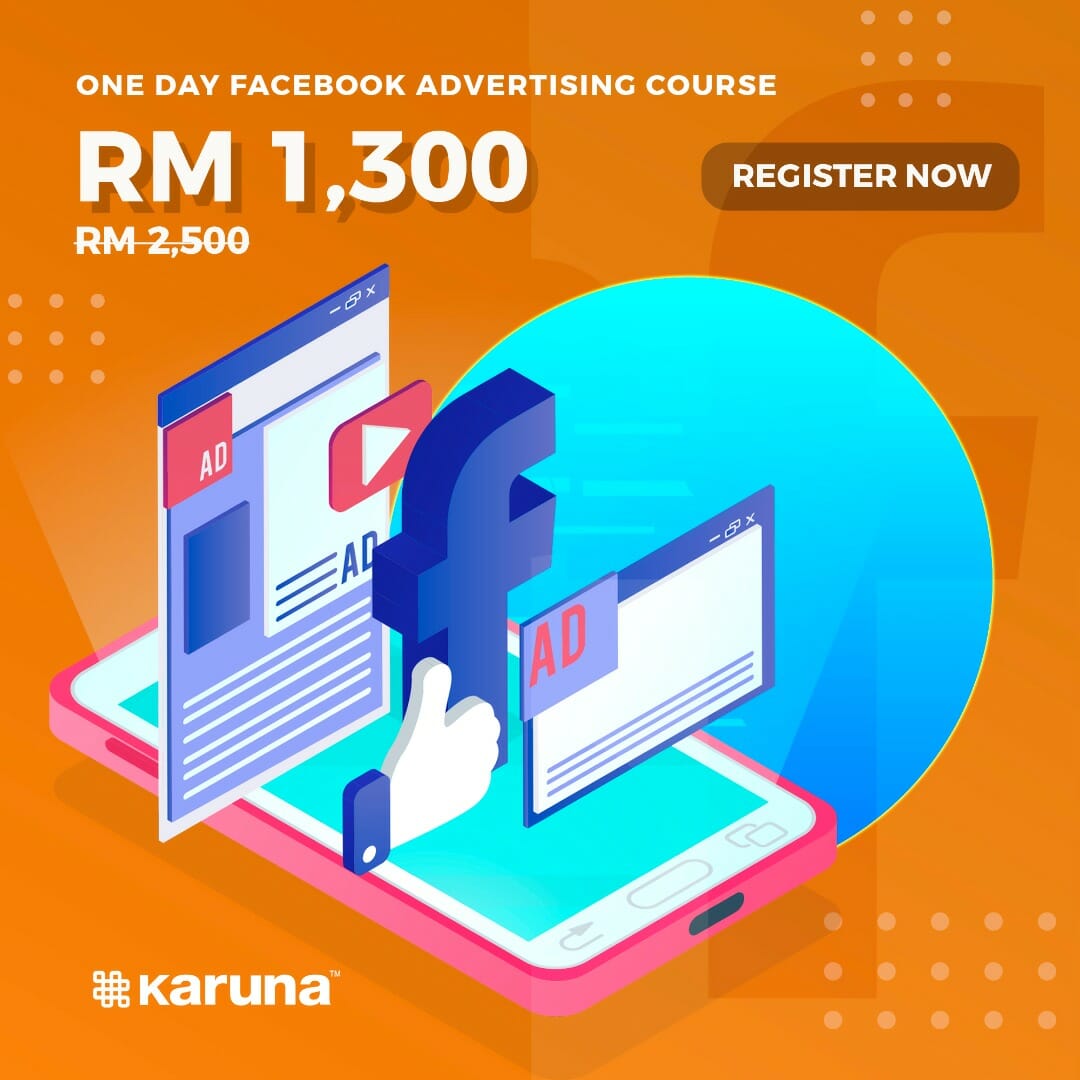 Learn the basics of creating Facebook ads, identify the correct target audience and save more money on social media advertisements with our 1-Day Social Media Advertising Course on 8th of May 2020. First 15 participants will be entitled to our early bird tickets for only RM 1300.
Learn from our industry professionals who have more than 9 years of experience. The course outline is similar to our classroom courses, only this time round, we are offering it on ZOOM for the first time.
Gear up during this MCO period to bring your business online on social media. We will equip you with social media marketing and advertising strategies that can be applied to your job or business.
The training covers the fundamentals of Facebook page management and take learners through the entire marketing process: Ads creation, audience targeting and ad campaign management. Participants will also get to interact and ask the instructor questions after the course.
Course Outline:
Introduction to Social Media

Overview of Social Media
10 Benefits of using Social Media
Understanding the Buyer's Journey

What is the Buyer's Journey?
The Importance of Buyer's Journey
Define Target Audience Using Buyer Personas

Introduction to Buyer Personas
Creation of Buyer Personas 
Facebook Page vs. Facebook Group

Introduction to Facebook Page
Introduction to Facebook Group 
Facebook Marketing Fundamentals

Introduction to different Facebook Ads tools
Facebook Ads Campaign Structure
Facebook Ad Types and Placements
Facebook Ads Policy
Create Ads in Ads Manager

Set Up Ads Manager
Create a Facebook Ads Campaign
Formulate Facebook Marketing Strategy

Steps to Win at Facebook Marketing
Interpret Facebook Page insights reports
Trainer Profile
Melvin Ong is the co-founder for Karuna Sarawak, an award-winning Web & Digital Agency based in Malaysia.
Melvin graduated with a Bachelor's Degree in Electrical and Computer Engineering from Northwestern University, IL. He started his first e-commerce company in Chicago, IL and sold 100,000 units of Power Banks online in one month. After he sold his successful company, he returned to Malaysia and has participated in the growth of e-commerce with Lazada, Groupon and Astro when they were start-ups.
Melvin is well versed in web technology, IoT applications, Facebook marketing and Google Ads with over 10 years of industrial experience in his own business and in serving clients across various industries from retail, real estate, hotel, universities and more.
Visit Karuna's website for our portfolio and clients:
karunasarawak.com

Schedule:
Date: 8th May 2020
Time
Agenda
9.00 am – 10.30 am
Introduction to Social MediaUnderstanding the Buyer's Journey
10.30 am- 10.45 am
Break
10.45 am – 12.00 pm
Define Target Audience using buyer personasFacebook Page vs Facebook Group
12.00 pm – 1.00 pm
Break
1.00 pm – 3.00 pm
Create a Facebook PageFacebook Marketing Fundamentals

Create Ads in Ads Manager

3.00 pm -3.15 pm
Break
3.15 pm -4.00 pm
Formulate Facebook Marketing Strategy
4.00 pm –4.30 pm
Q & A
Note the event is over already. If you still interested for this Facebook course, you can visit Futureskills Institute to enquiry for the course.FutureSkills Institute is a collaboration between Karuna, a creative agency based in Kuching, Sarawak, Malaysia, and Disruptive Digital, a full-service digital agency based in Singapore that offers expert-led and HRDF-claimable training courses in coding, data, design, digital marketing, and more.